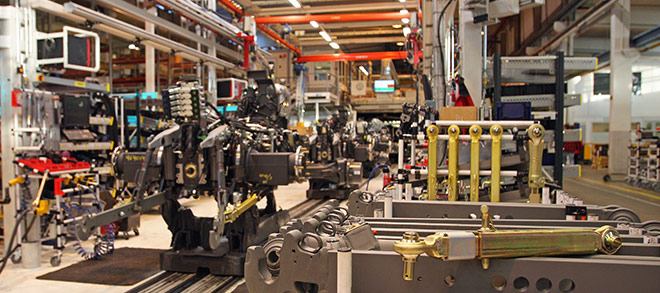 We offer tractor manufacturers high-quality couplings at reasonable prices, varying from basic components to large entities. LH Lift is known for its high-quality, easy-to-use and safe couplings.
Expertise Determined by Your Needs
We design solutions in cooperation with our clients to meet their special, unique requirements. Together we will determine the structural features, quality and manufacturing price of the product to suit your particular needs. On this basis we can then design the best possible product for your needs.
Functionality of Couplings Is a Part of Your Brand Image
A tractor's value is based on the use of implements. LH Lift focuses on making couplings intuitive and easy to use. We want to integrate the positive user experience and Scandinavian design of our products as a part of your brand image.
Flexible Manufacturing
Our reaction ability is ensured with an extensive subcontracting network and efficient material logistics controlled with a flexible production management system. This makes it possible for us to make changes to delivery volumes even at short notice, depending on demand. We can also provide you with other ready assembled partial units straight to your production line.
Reliable High-Quality Production
Our products are manufactured both in Finland and China with modern production technology and steels with high fatigue resistance. The production and quality at both of our plants are controlled in accordance with the ISO 9001 standard. This makes it possible for us to ensure the high quality of our products.
Capitalise on Our Extensive Experience
We have more than 40 years of experience in manufacturing couplings, which has given us a clear understanding of the quality, reliability and cost competitiveness that our customers demand.